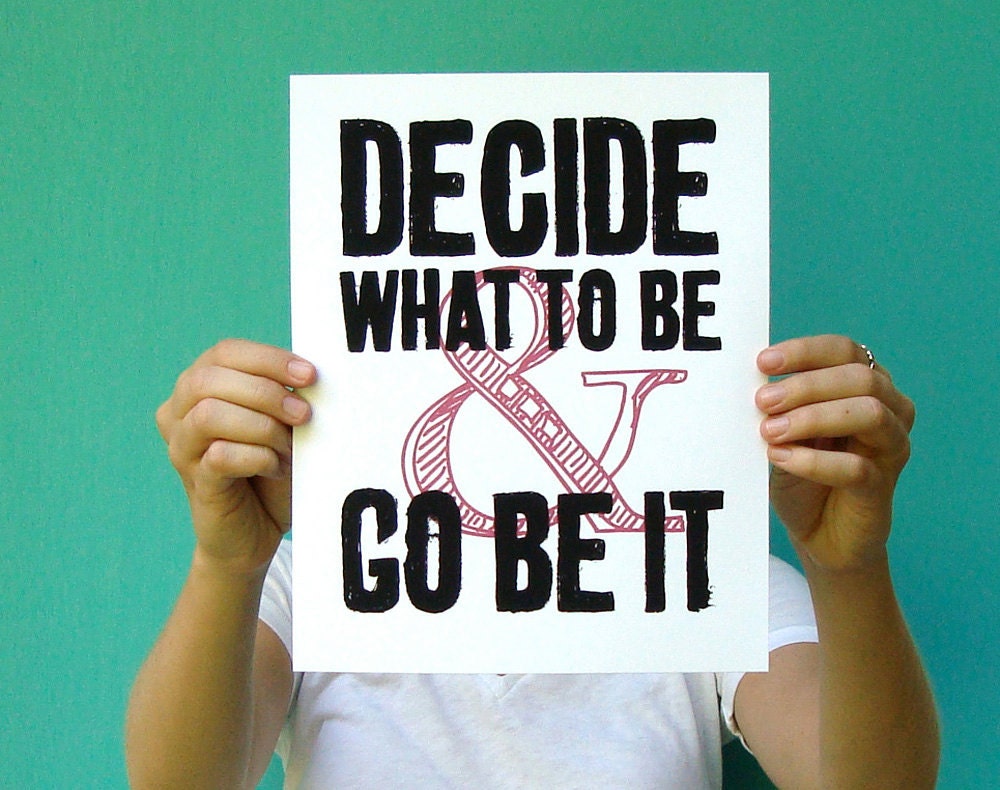 decide what to be and go be it by letterhappy
This is a guest post from Tara Gentile, cheerleader for The You Economy and overall smartypants.
"How do you react when someone says 'you're ambitious?'"
I posed that question to my community last week.
I really, really tried to not make it a loaded question. Which, for the record, is not one of my strong suits. I'm opinionated and it shows.
How would you answer?
Knowing that the vast majority of responses would be from women, I expected there to be many nuanced answers. I take it as a compliment but I'm not sure that's how it was meant. That sort of thing.
Ambition is a loaded word.
I think this response from Annching Wang (Michelle's note: Annching's a former client of mine. Tara didn't even know that! Serendipity!) sums it up:
"I've been called that several times, and it has always seemed strange to me…like I've overreaching for something."
I think, at the heart of it, we want to be ambitious. We want to stretch ourselves. We want to push our capacity for greatness.
But that rubs against the status quo. When you allow your ambition to show, it's like you've taken a little step off the straight & narrow path. Especially if you're a woman.
Ambition has long been a man's territory. Men dream big dreams and are expected to fulfill them. A woman's ambition is, how shall we say, more demure? "Ambitious" has been a derisive term when applied to women. Exactly as Annching suggests: overreaching. Out of her league. Unrealistic.
And, no judgement here. I believe men are starting to feel this push back against ambition, too.
My friend – and the founder of the Daily Worth, get thee on the list pronto – Amanda Steinberg has called this "The Year of the Ambitious Woman."
I like this. I am an Ambitious Woman. And this is my year.
But I'd like to reframe ambition. Ambition is the unceasing drive for success.
But at what cost? To what end?
That's what needs clarification.
"It's time to get ambitious, not just 'visionary.'"
— Umair Haque, Betterness
Ambition isn't just the unceasing drive for success for success' sake. Ambition is the unceasing drive for success with a purpose. A bigger vision. Something greater than you and I.
It's not just the vision of a brighter day. Ambition is the step-by-step-by-step action that turns big ideas into even bigger outcomes. Vision is the dreaming. Ambition is the doing. Purpose brings it all together.
Keeping the purpose in perspective fuels your ambition. Boosts your confidence. Cheers you on when things get tough. And they will.
Go ahead, be ambitious. Be ambitious with purpose.
***
Tara Gentile is a writer & business coach empowering entrepreneurs to find their home in the You Economy. She's helping over 50 entrepreneurs build businesses powered by ambition this week during The Art of Earning LIVE. Click here to grab your virtual ticket.