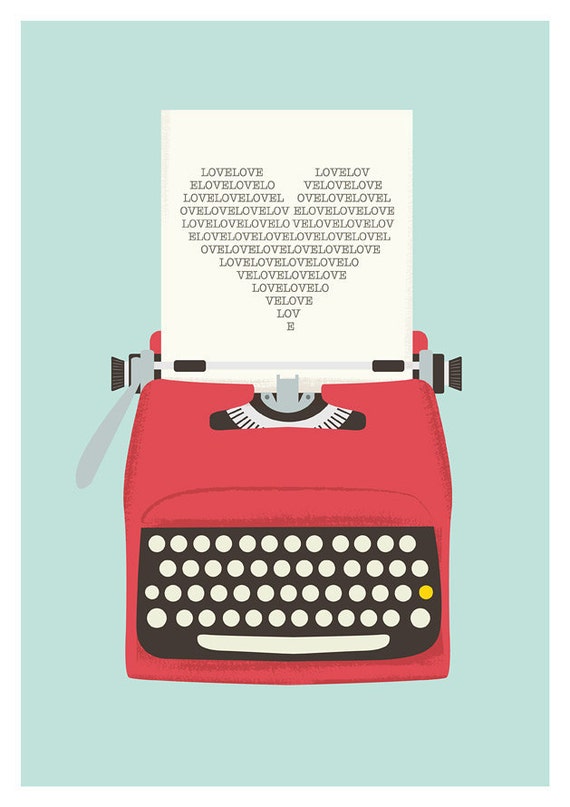 Vintage Typewriter Poster Love Print by Handz
Annching Wang is a current client of mine with a fashion and communications background and biz, Bespoken. When she recently launched the $99 Press Release, I cried, "Please! Give this away for my blog readers! They need it & they'll love it!" Not only did she agree, but she sweetened the pot by writing a post to go with it! So even if you don't win, you have some great tips on how to write your own (or you can still hire her to write yours, since it's super-affordable). Win-win!
Let's say that you have a website, and it's just sitting there, waiting for a big break. You're getting customers, but you want to reach more, and you're ready. And you have something that you wanna promote (whether it's the opening of your Etsy shop, a new product launch, ora holiday sale you want to get out there). You're at the point where you're probably wonderinghow to go about getting press coverage in a newspaper, a magazine, or a blog.
The plain and obvious truth is that there really are only two ways to go about doing it: The first is to get noticed (i.e. the scenario above where your website is sitting and twiddling its thumbs,waiting for some hotshot editor to discover it), and the second is to get them to notice you. I love being proactive about our goals and our businesses, so of course, if there's ever an opportunityto take action yourself towards something that could a) give you more authority b) expose you to more people and c) get your amazing thing out there, well, you should take it!
So, what exactly do you need to approach the press to share your story and spread the word?
The four elements of a great press pitch are a well-written press release, a press kit (optional but awesome if you want to really stand out), 1-3 web-optimized images if your work is visual/tactile in nature, and an engaging, personal, and brief cover email.
The key is to be professional, but personal. Engaging, but clear.
But before you jump in, let's go over the no-no's.
First thing to remember is that the people you want to get in touch with to potentially write about you are inundated with requests every day. As a fashion blogger, I have had press inquiriesfrom people who spelled my name wrong (if in doubt, copy and paste is what I say), sent me stuff that had no relation whatsoever to what I wrote about, and/or sent me a press release where, after quickly reading through it, had no idea what exactly they were trying to sell becauseit was written so poorly (and yes, some of these were from actual PR companies!).
Don't send an email with nothing else and expect someone to go to your website to "find out more". You need to grab them right then and there. At the same time, don't send a huge email with your 20 MB catalogue attached – people just don't have the time.
Other tips:
– Start small. You might be a little bit nervous to pitch to the big guys. That's totally fine! Start small, with local media and niche blogs. In fact, they may do more for your business than you think.
– Don't spam. It's very obvious when you copy and paste a form email and send it to everyone. These are the emails that will end up in the trash.
– Give it a try! As with all business strategy, you never know what will happen until you do it.
Want Annching to write your Press Release for you? She's giving away a $99 Press Release – complete with 5 Big Q's, a 1 Page PDF, 1 Custom Headline and up to 300 words designed to match your brand – to one of my lucky readers! Comment on this post before 3p Eastern on Wed 11/23 with your answer to the question: What are your 3 dream publications (blogs, magazines, newspapers, etc)  that you would love to be featured in? A winner will be chosen at random and will be announced here before the end of the day on Wednesday. Good luck everyone!
UPDATE: Congrats to Adriana for winning the giveaway! AnnChing will be in touch with the details via email for ya, Adriana. Thanks for entering, everyone!