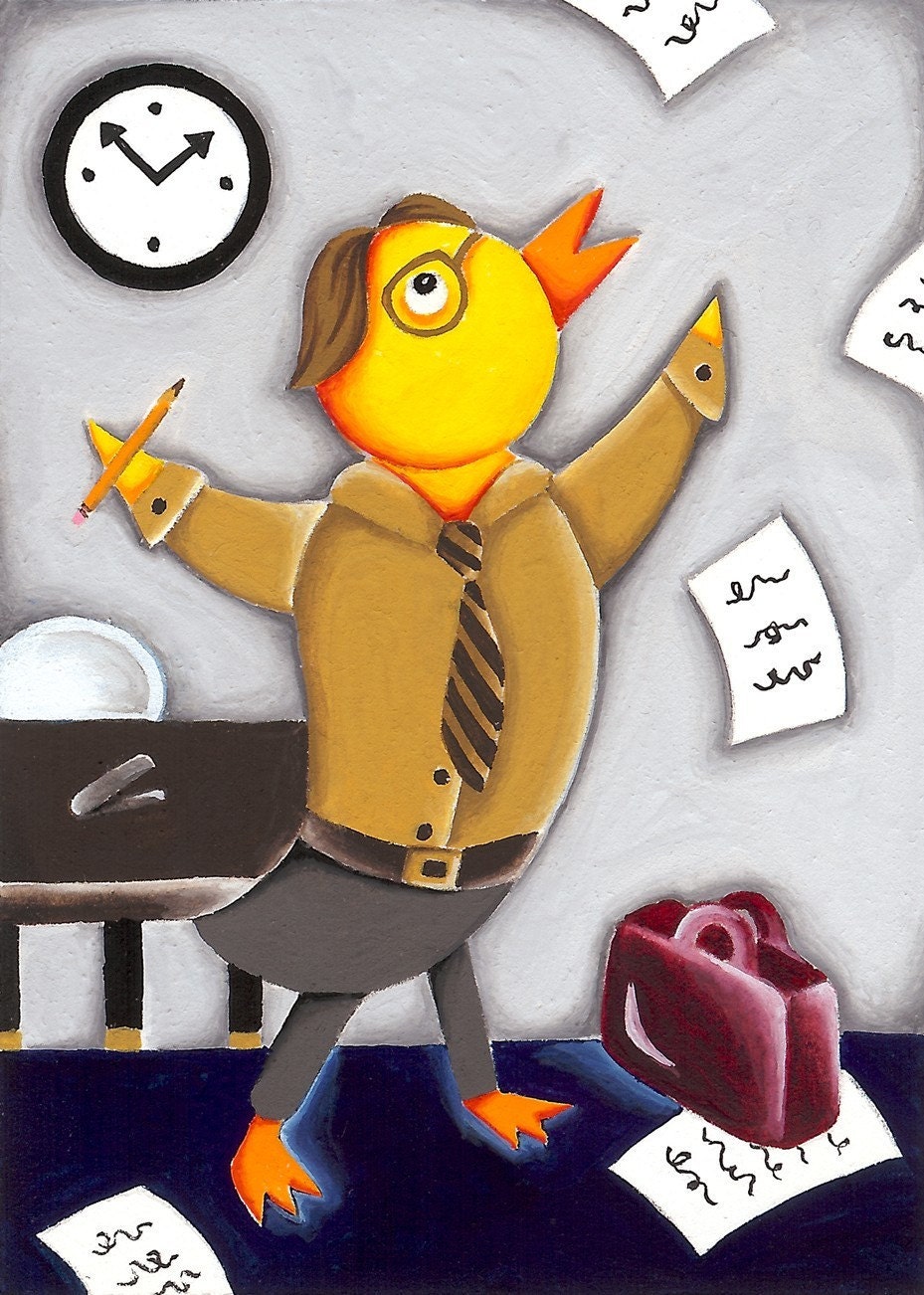 Mr. Chicken Gets a Day Job (15A) by Mr. Chicken
Yup. I'm scared to write this post. Not because I don't believe in what I'm saying, but because I know that the recession is real and has affected millions across the country and around the world. This post, and the series that will follow, are not in any way, shape, or form meant to negate that. Hell, a family member of mine recently saw his company go from one that employed over a hundred to one of twelve once a corporate acquisition took place. I know the struggles, the challenges, the stress, and the trauma that comes with losing your job or not being able to find one for weeks/months/years at a time. I have absolute empathy for those that can no longer take care of their family, or need government assistance, or lose their homes. I'm not ignoring the sobering statistic that more than 13 million (!!!) people are still unemployed and more than half of them have been out of work for more than six months. I absolutely, positively do not mean to make light of that. That's not why I'm here, putting this controversial title out into the world and waiting for possible tomatoes to be thrown at my blog for the first time in the 3 years I've been blogging.
Why The Recession is Bullhonkey, then? Honestly, I hear of someone leaving their job or getting a new one at least once a week, whether it's my current/former clients, friends, family members, friends of family members, old co-workers – you name it, I've heard it. Often. I just had to bring that to light to negate this Great Big Excuse that you're stuck where you're at because "I'll never get another job" or "I'd be crazy to give up a sure thing."  Yes, you can (dare I say "will"?!) get another job. No, you wouldn't be crazy to give up "a sure thing" (or is it?). It's time to shed a light on people who are getting laid off – and find a new place to land within a few days/weeks. It's time to spotlight the people who left their "sure thing" to start their own thing – and are making it work. It's not only time to out them, but to hear their stories, learn how they did it, and get ideas/inspiration to do the same.
First, the facts, taken from this Today/MSNBC post from earlier this week:
Unemployment fell for a fourth time in a row to 8.5 percent, it's lowest point in nearly three years.
There's been an uptick in the number of Americans quitting their jobs since the recession began in December of 2007, according to the Labor Department.
The BNA Annual Economic Forecast, (BNA tracks and analyzes legal, regulatory and business information) shows the U.S. economy improving, albeit with limited job creation, expected to increase in the second half. Also, modest gains in private sector workers' hourly compensation.
The rate of layoffs is lower than anytime before the recession.
If you go and read this Today/MSNBC post (it's short!), you'll also hear how disgruntled workers are. Hopefully that'll lead to companies not taking advantage of their employees/raking them over the coals/making them do the work of 5 people, but that's another post for another day.
What comes to mind when I hear, "But I can't find a new job in this economy!" and want to strangle someone?! I think first of my dear friend Jen left her assistant job in 2009 to follow her bliss, which was performing, writing, and baking. A few months (a year?) later, she decided that the bakery wasn't her bliss no' mo', and that writing and performing was where it was at – and she needed the funds of a j-o-b to keep her afloat while she went about making it happen. She went to CraigsList (the horror, right? wrong!), applied for 1 job, got called in, and was offered it on the spot. Have you heard of anything so "crazy"?! I have, because it happened to my dear friend Jen. Granted, the job wasn't a good fit, but a few months in she got recommended to be the Managing Director of her home-away-from-home, The PIT. She interviewed there, got hired, and left the law assistant-ing behind for a job in The Thee-ay-ter after just 6 months.
After I'm finished thinking about Jen, I think about a friend's husband who got laid off from his Director position at a design firm a few weeks ago. He reached out to an old colleague and told him the news, asking him if he wanted to go for lunch and catch-up. When my friend's husband got to his former colleague's office a day or two later, he was escorted into his office. The first words out of his friend's mouth? "So, the position I wanted to bring you in for…" Naturally, my friend's husband was confused – he thought he was just coming in to go to lunch! – but after getting over the shock, he shook it off and interviewed for the next few hours. While nothing's firm yet, they're in negotiations now for that very position.
Then, after giving thought to Jen and my friend's husband, I think about a former client of mine who made the move from NYC to Philly with her fiance. She finagled a deal with her current employer to only be in the NYC two to three times a week, but the job itself (she hated it!) and the back-and-forth travel for the better part of the summer was driving her nuts. She sent me an email a few weeks ago that said, "I FINALLY found a full time job in Philly. After all of my networking, reaching out, conversations with random people, I ended up finding this one the old fashioned way – on an anonymous online job board! Whodathunkit. I started at the end of August." She went on to add that the work we did together allowed her to hone in on the best work environment for her – nice people, a work/life balance, feeling that she's making a difference – and that's exactly what she found.
And then (after Jen, the friend's husband, and the former client), I think of Mike, who hired me in 2009 because he saw the writing on the wall. As a Photo Researcher whose job was being threatened by cutbacks in the industry, we worked together so he could create Plan B in case the lay-off ever came. You can probably see where this is going, but still…the lay-off came in 2010, and Mike threw himself into his abstract landcape photography. He's currently had his first gallery show, is planning another, and is selling his art by commission.
I then start going through my former client list. There's Sarah, who left her sucktastic corporate job because she got hired to be a project manager/Jill-of-all-trades for a small online start-up. She applied online through the guy's website and was hired about a week later. She moved states – to where she knew nobody – for the gig, and after 4 months, she was told that "we weren't sure if we were really ready to hire anyone". Instead of running back to her old job (which she abhored) or the field that she worked in prior to "The Dream Job", she landed a job in communications and development coordination (which is where she shines) for a nonprofit. She wrote, "I wrote 2 grants today and am developing their soon to be launched blog. I'm still working on my plans for what I suppose will be a side hustle for a bit-my website and plans to do more of this communications/organizing on a more temporary basis for startups." Still project management stuff, still working with an online capacity, still keeping her eye on being a consultant. Win-win.
There's also Abbie, who knew she was moving across the country this summer,  but went a few weeks early to attend a career fair. As a special education preschool teacher, she found the career fair that would offer her the biggest bang for her buck, sucked up the money to take a trip there pre-move, interviewed, and had an offer a handful of days later. She told me later that she got both of her teacher jobs through career fairs. Ooh! There's also the former client who knew that her current position wasn't doing it for her, but she liked the company she worked for and the people she worked with. Instead of starting from the bottom someplace else, she communicated to her boss what she'd like to do more of, and what she'd like her responsibilities to consist of. They created a new role tailor-made for her, which she transitioned into last year.
And come to think of it…there's another former client who's an elementary school teacher who had The Principal From Hell – so much so that she thought she didn't want to be a teacher any longer! Once she realized that the principal was the problem – not the teaching itself – she asked for a transfer. She got it and was at a new school a handful of weeks later. Yes, angels are still singing "Hallelujah", as the new administration is supportive, receptive, and nice. Whadda change!
Last but not least, I think of my own Virtual Wizard (yes, "assistant" is way too boring), who knew that enough was enough and there was enough savings in the bank to get by for a while. Arwyn left her Supervisor position this summer (after 5-ish years there!) and has been freelancing for, um, me (!) and her family, doing admin stuff, design work, billing – you name it, she does it. She got the gig because, well, she's related to her father and sister and they're entrusting her with website building and billing for their therapy practices. As for me, I had the need for a virtual assistant and I knew that (a) she was gonna leave her full-time job within a few weeks time (b) she wanted a job that she could do for just a few hours a week (c) she had thought about being a coach herself, so I thought she'd might find the behind-the-scenes stuff of my biz interesting. Since she was a former client of mine, I knew that she was smart and hilarious and I'd enjoy working with her times infinity, so I offered her the job before talking to anyone else. Now is that the way to get a job or is that the way to get a job?
Hopefully I've proven my point. Hopefully I've proven my point so well that you now need this. Hopefully I've proven my point so well that you also put the tomatoes away and, most of all, stopped using The Recession Excuse because – say it with me! – it's bullhonkey.
Have you've gotten laid-off or left a job since Sept'08, and found a new one? Have you started your own biz during that time (like me)? Drop me a line with your story and what I'd have your approval to post here, along with a pic/bio if you'd like or the request to be anonymous. I'm also looking for guest posts for The Recession is Bullhonkey series, so if you'd like to write one yourself that's related to the series topic (it can be your personal story, or how the job market has been redefined, or tips on getting hired, etc),  I'm all ears!
——