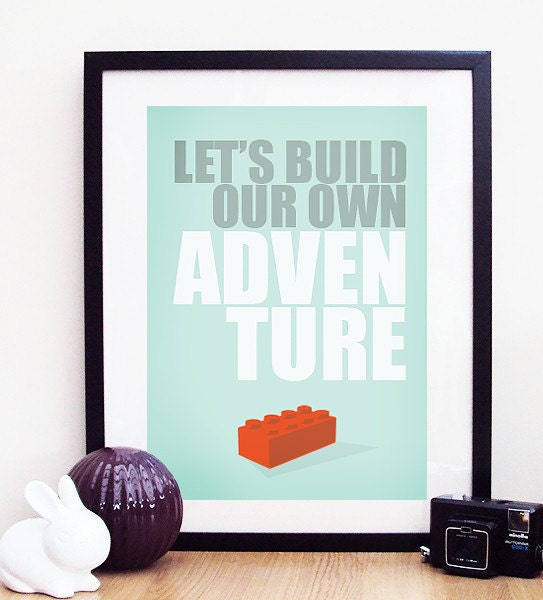 Lego "Let's Build Our Own Adventure" by Oh, Dear Molly
This is part of  The Recession is Bullhonkey series, where I share stories of those who have gotten hired and/or started their own businesses (or sometimes both!) since 2008. This is Clare's  Story. She graduated from university in May 2008 and was unemployed for 4 months before finding work and setting out to create her own career. Adventure ahead!
In May 2008, I took an internship working in the U.S. Senate. I, a country girl from the middle of Ireland, came to the US for the very first time and got an all access pass to the highest branch of US government. It was amazing. I wrote policy papers on international affairs, met with fantastic American leaders and gave tours of the Capitol to the senator's constituents. I thought I'd made it.
After my summer internship, I returned home to Ireland and was unemployed. I had a very healthy CV (volunteering in Zambia, several great media internships, a very active extra-curricular life in college) and just couldn't find work. I (arrogantly) never thought I'd have trouble finding work. I'd been volunteering, interning & working since I was 15. Every rejection letter hurt. I grew more and more dispirited as my savings ran out and my self-esteem withered. Without the routine of a day-job, I quickly fell into bad habits. Sleeping in, eating crap and not exercising. I spiraled into despondency very quickly.
After 4 months, I got work with a magazine in Dublin and vowed never to unemployed again. I took the reins of my career and decided to make it the best it could be.
I worked hard, continued applying for jobs on the side and wrote my blog. The pervasive negativity of unemployment and economic collapse made it difficult to stay positive sometimes. It seemed like everyone was loosing their jobs, like I'd never be a success and that there was no point in even trying.
When my 5 month contract ended, I returned to Washington DC, managing the non-profit that arranged my internship the previous summer. While there, I got a phone call from another organisation I'd interviewed with months earlier. They had an opening coming up and wondered if I'd be interested. I started on a 2 month contract and ended up staying for 2 years, ultimately being promoted to manager.
I worked hard to expand my network and made the effort to keep in touch with my colleagues and connections. I wrote my blog, which won an award and I went on an all expenses paid trip to Malaysia.
After about a year, I grew restless and wanted another challenge. With the benefit of hindsight, this was a strong signal that it was time to leave but I was too worried about unemployment to make the leap. I continued to apply for other roles and was finally offered a position managing a program in Kolkata, India which I leapt at. It was a hugely challenging role and I learned a hell of a lot about people, non-profits and how to get things done. It was a volunteer position, so I dipped into my savings to afford it but it was worth it.
On my return, I found my current job through a friend and am happily employed until May when I'll be off on another adventure.* I hope to start a masters program in International Journalism in September.
For me, the hardest part of unemployment was loneliness and the devastating feeling of worthlessness. It was difficult to stay positive and proactive when faced with constant rejection and criticism. Once I found work, I vowed never to let that happen again. I was determined to create my own career rather than relying on someone else to just give me a job. I've been trying, failing and succeeding to do that ever since.
If you're unemployed, under-employed or unhappily employed, I feel for you. I've been there. It stinks!
My advice?
Try to stay positive. Take care of yourself. It's not your fault. Be kind to yourself.
Stay connected to your network. Friends, former colleagues and other connections are fertile ground for job-hunting.
Stay learning. Take a class, do some volunteering or consider an internship. Vow to stay learning.
adventure still to be defined.
Clare Herbert is a writer & social enterprise junkie based in Dublin, Ireland. You can follow Clare's adventures on her blog or connect with her on Twitter. 
—-