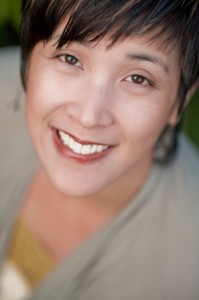 Did you guys know about Jen Lee's Right-Brainers in Business Video Summit? It starts today, is totally free, and is a must-watch (yes, I've blocked off my calendar for it every single day for the next 2 weeks!) for anyone creative (aspiring) business owner!  Jen put it all together to celebrate the launch of her book, The Right Brain Business Plan, and I'm oh-so-glad she did! Every day corresponds to a chapter in her book, and includes a cult leader talkin' 'bout that topic, like Pam Slim on Managing the Money, Chris Guillebreau on Corraling Your Creative Cohorts, Lisa Sonora Beam on Action Planning, and Danielle LaPorte on Weaving It All Together, there's something for everyone each and every day (or all days!).
Jen was sweet enough to step into my Grown-Up Gigs spotlight and answer my questions. She's the coolest!
1. What did you wanna be when you grew up? A movie star, a lawyer (I blame L.A. Law), a broadcast journalist, an artist, a magazine editor, a therapist or counselor (before I knew that coaching existed), a maker of cool, creative things.
2. What was the inspiration for The Right-Brain Business Plan? Back in 2007, I participated in Leah Piken Kolidas' Art Every Day Month challenge for the first time. During the last two days, I was also working on my business plan. Since I had to make art anyway, I decided to do something visual and creative with my plan. So I collaged a vision board on one side of an accordion book and the next day, added details like my marketing plan, finances, and more (all with fun paper and ribbon, of course!). And so the Right-Brain Business Plan was born!
3. The Right-Brain Business Plan is now a book – hooray and mazel tov! What goodies are in there that aren't included in the downloadable e-book? Thanks for the cheers! Oh boy, where to begin?!  There's so much more that's included in the 200+ page book that couldn't fit in the original 9-page handwritten e-book. The book breaks down each of the building blocks of the plan from the vision, to finding and connecting with your perfect customers, to managing the moola, creating your action plan and more and provides colorful play sheets and creative exercises to guide you through the process. Plus, for an extra dose of inspiration, the book features 36 full-color photos of Right-Brain Business Plans from 22 right-brain entrepreneurs who share their success stories. Let's just say it's like the e-book on many doses of creative steroids!
4. I'm soooo excited for The Right-Brainers in Business Video Summit, both to watch and participate, because the peeps involved are amazeballs. It's about time us Creatives had our own summit! What can I expect to take-away, and how is it different (other than the fact it's aimed at us right brainers)? I'm so excited, too, and am stoked that you're gonna do a show and tell of your RBBP on March 3rd. Yay!  As a participant you can expect to take away tons of juicy inspiration and practical advice about running a business in a way that honors your natural creative genius. These speakers are gonna knock your socks off! The summit is different because it caters to our right-brain sensibilities by being visual and interactive through video interviews and a webinar room. Instead of just listening to experts share their wisdom on the phone, you get to watch and experience them in action and even see some of their tools of the trade. Plus through the online chat function participants will get to connect with each other from around the world. And you can expect that there will be lots of color and creativity sprinkled about.
5. If you could have your present self give your pre-coach self one piece of advice, what would it be? Trust yourself, you are on the right path.
"Running a business in a way that honors your natural creative genius." What's bad about that?! (Please note the hypotheticalness of this question) And like Jen mentioned, I'll be showin' & tellin' my Right Brain Business Plan live for part of the summit on Wednesday at 1p Eastern! It's gonna be a rockin' hour all around. Sign up now (it's free!) so I can see you there (OK, you can see me there, but I won't be able to see you there. But we can chat with each other while we're there because it's totally the future)!