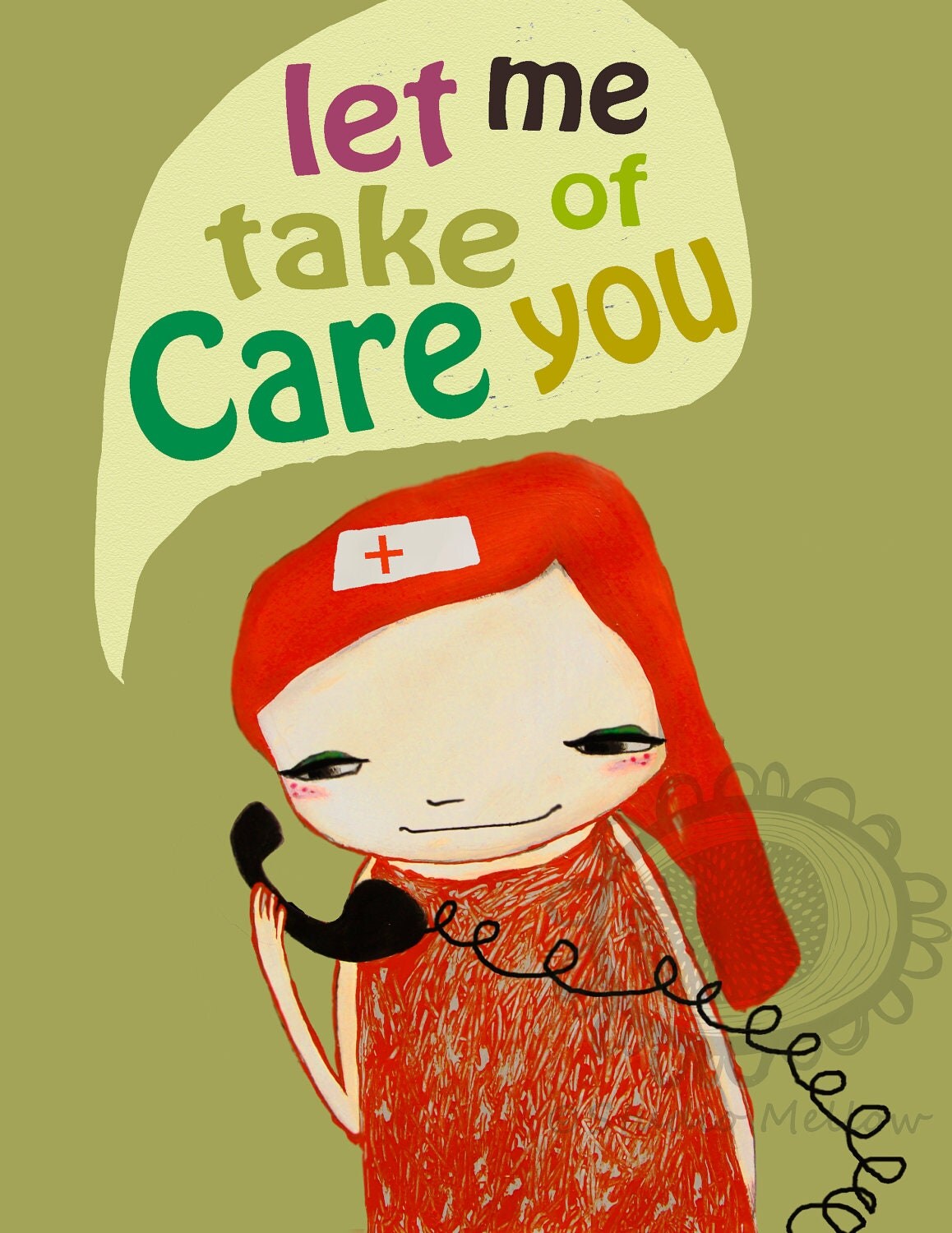 Little nurse girl taking care of you by Studio Mellow
Today, September 24th, 2012 at approximately 8am on the Upper East Side of Manhattan, I'll be wheeled into an operating room for hopefully the last time for anything other than joyous reasons. I'll be put under general anesthesia like I have been three times over since December, and around 10:30am I'll wake up in a recovery room, hopefully not nauseous or in too much pain. I'll stay there for up to an hour while my husband, my Mom and my stepfather check in on me, and then I'll be driven home – either to my apartment or to my Mom's out on Long Island, depending on how long I can stand being in the car.
I found The Lump a week after Yom Kippur last year, and at that time this year I'll have all my treatments behind me. This milestone is gonna be marinating for the next few weeks – and I have a feeling there'll be a mighty long, thought-out, emotional post right around October 12th (you have been warned) – but until then, I'm holding my 2012 word close (CARE) and am actually looking forward to this. Not only because it feels like the last step to being entirely cancer-free (which it does), but because I'm going to be infinitely more comfortable. Right now, the expanders that are in my boobs feel like I'm wearing a coconut bra underneath my skin, but when they're swapped out for the implants, they'll be soft and malleable. I love that I'm getting "gummy bear implants", and if I had a choice, I'd definitely go with red ones.
Can you do me a favor? Send a card today to someone you love – someone you might not see very often, someone you might have known for a long while, but over all, someone you know would stand by you during a time like this. Tell that person that you're thankful for them, you're appreciative of them, and that having them in your life sunnifies (yes, sunnifies) it. I have some people I need to publicly say that to:
LUKE: You know how you say I'm your rock? Well, you're mine (isn't it nice how that works?). I just don't know how I would have gotten through this had you not stood by me, held me close, stroked my hair, allowed me to play The Cancer Card ten times a day, took care of me, and shot me up when necessary even though it pained you to hurt me. Not that we needed to strengthen our marriage, but man oh man, there's not a crack in that foundation. Thank you for making me feel like I was never a burden, ugly, or unloved for even a nanosecond. I can't even express how much I needed that.
MOM: I might joke about you being a stereotypical Jewish mother, but I wouldn't want you any other way. The fact that you refused my You-don't-have-to-come-to-that-appointment responses and that I couldn't get you to leave me alone…I love you so so much for that. I can imagine what you've been going through behind closed doors, but I never saw any of it. You don't have to be strong for me, but you're sweet and kind to put me and my up-and-down emotions above all. I've always known that you love me unconditionally, but you've shown me throughout all of this. Oh, and I'm sorry if my damn ukulele songs made others say to you, "Why do you look so sad and upset? Michelle doesn't look sad and upset!" You have my permission to punch those people.
CHUCK: Schmemo wouldn't have been any fun at all without you (and yes, it was a little fun). You've always been there for us, but this was above and beyond. I felt better knowing you were taking care of my Mom, and I appreciate you being alongside her when we knew she'd need you most. Having you there for my surgeries and schmemos was a comfort all around.
BUTCH AND LISA: You called or texted me every day. Every. Day. No matter how short-tempered or moody or bitchy I was when I answered, you kept at it. The fact that I knew the phone was ringing at around 4pm every day always made me smile, even when I wasn't in the mood to talk. Thank you for letting me know I was being thought of and loved, and for bearing with me when I was a jerk.
JESS: Knowing I'd have an hour or more each week to work on our book (our book!) and bitch and gossip and laugh with you, and knowing that I can get good hippie-dippie smoothie-and-chemical-free info without you saying "I told you so"….you never made me feel like I was sick, and when we spoke about The C Word, it came from a place of love and concern – not pity. Having that week in Portland with you was just the break I needed after 9 months of hell, and it wouldn't have been so rejuvenating if I had spent it with anyone else doing anything else. Thank you for being such a great great friend and "business partner".
BETH SILVERMAN: We haven't spoken in a while, but I hope that when you come back to New York you let me take you out for dinner and we can get s***faced together. There were lots of people I was being pointed to when I was first diagnosed – people who liked to tell horror stories about their treatments or the terrible experiences of their friends and family – but you never once scared me or blatantly told me what to do. You gave me the facts in plain English and then went deeper with your tips and advice. I still hold close what you say to me: "You have to make decisions based on what will make you not feel any regret if the cancer comes back." I'll always keep my eye on that.
ARWYN: Holy guacamole, am I just the smartest person for convincing you to come work with me (yes, that's a statement – not a question). I never once felt like my business wasn't in overly capable hands, and not having that worry to carry around was priceless for me. You also have the ability to make me laugh with practically every email you send, which just makes me feel like work is anything but. I appreciate you and am grateful for all you do and how you do it.
DR. LINDA VAHDAT, DR. ELENI TOUSIMIS, DR. LLOYD GAYLE and all the staff that comes with you: My dream team. I want to put you here because, if anyone Googles you all, they'll find me singing your praises. I count my lucky stars that I live here in New York City and found my way to all of you. You have literally fought for me, and made me feel strong, confident and comforted in all the decisions that needed to be made during this tumultuous time in my life. I have never felt in better hands. You've saved my life.
DR. KAREN KOSTROFF: To take me in the day before Thanksgiving, a mere 48 hours after my mother called your office in a panic, and to make sure I didn't leave without a biopsy, ultrasound, mammogram…it was an exhausting day, but I know plenty of other doctors who wouldn't have reacted with the swiftness and urgency that you did. To get your call the day after Thanksgiving with the Stage Two diagnosis certainly sent us into a tailspin, but the fact that you do whatever it is you do to turn test reports around so quickly and get us the information we're waiting on pins and needles for…it was always appreciated. Thank you so much for taking care of me.
EVERYONE WHO SENT ME A CARE PACKAGE: I got flowers, plants, fruit, cookies, fleece socks, travel mugs, green tea, flax seeds, homemade lotion, cupcakes, a personalized smoothie recipe book, Judge Judy DVDs, stacks of magazines, hats, a quilt…I wish I had the wherewithall to send out proper Thank Yous to all of you instead of the tweets and emails I fired off. Just know, please, that each and every card and gift sunnified (yes, sunnified) my day, made me smile, and enthused me with joy and love and sweetness. It was my medicine, and I love and thank you for that.
EVERYONE THAT ALLOWS ME TO BE THE WHEN I GROW UP COACH: My clients, my readers, my followers, my fans, my friends…to feel all this love and support from all over the world…even if you never sent a message or left a comment, know that I felt it. I still feel it. And man oh man, does it make me feel like the luckiest 33 year old to ever get cancer. I never had any fear that I'd lose my clients or wouldn't be able to make ends meet. The work is my release and my relief, and I'm so very thankful for you to help me make it so.
I'll have a guest post up for you tomorrow, but will use the rest of the week to rest, recover, and – as in my using-work-as-a-release-and-relief nature – will be back on the 1st with a giveaway and the 2nd with a big fat announcement. I wouldn't have it any other way.