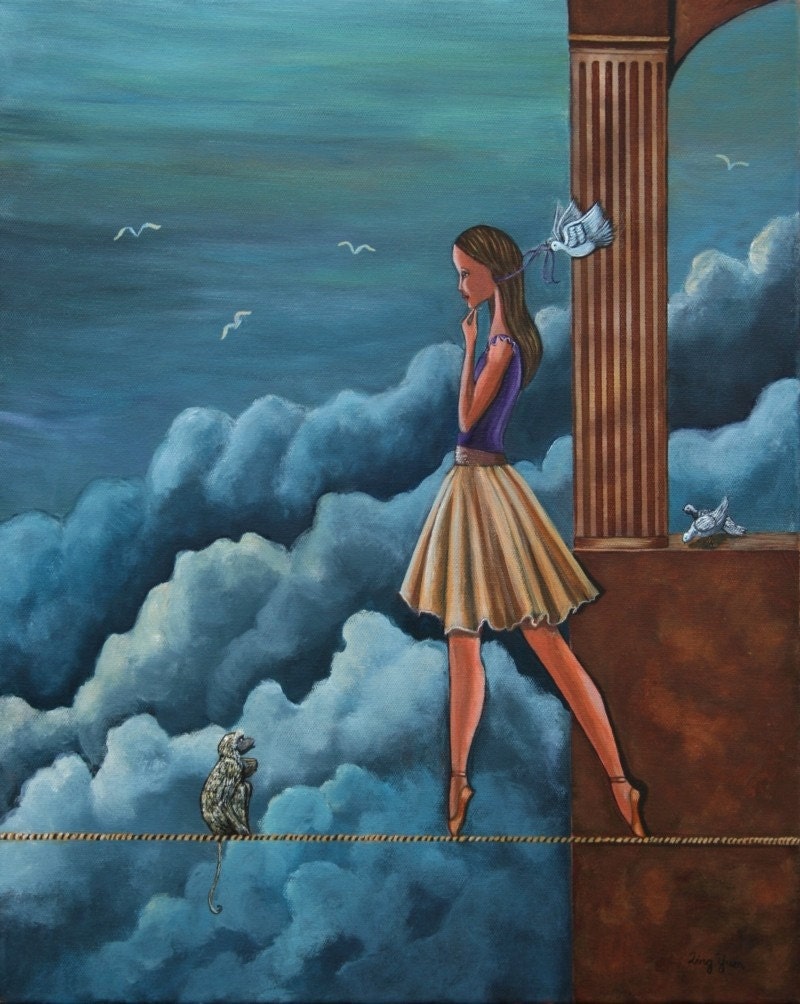 A Leap of Faith II by Ting Yuen
I've recently started a new series called The Recession is Bullhonkey, where I'm planning on sharing stories of those who have gotten hired and/or started their own businesses (or sometimes both!) since 2008. This is Sarah's Story, who I worked with last summer and who is super smart, super not-gonna-put-up-with-any-bullhonkey, and whose leap of faith allowed her to land 2 jobs in the past year (after quitting the first on her own)!
I've read the awful statistics about new college graduates. I know the outlook is bleak. I've read that college graduates from the year I graduated can expect to earn low wages. I don't discount the statistics nor will I make light of the struggles I have watched my friends go through. But what I do know is this: I have had four jobs since I graduated from college in May of 2009. It took me 9 months to find my first job after graduation, but it happened. And from there, my opportunities have snowballed.
Nine months after graduation, I took a job with a government contractor-, a job that I found through a sorority sister on LinkedIn. I'll admit I spent my first months out of graduation doing what I now know job experts call "spray and pray." At my job hunting peak, I sent out more than 6 job applications per day.
When I finally got an interview and an offer, I was ecstatic-thrilled to put on on pants that didn't have an elastic waistband and a bra that wasn't for sporting purposes. For 6 months, I went every day to the federal office, had a bi-weekly conference call with the home office and was compensated well. I spent most days verifying invoices, putting together PowerPoint presentations, proofreading documents, filing and reading an endless stack of books I carry around in my purse. I was largely ignored by the federal workers I was hired to assist, given little responsibility (because contractors just can't do the work that feds do) and when I asked to take on more projects or to assist other teams I was told "absolutely not." I should have taken my sudden need to be medicated in order to stay awake at work as a giant, flashing sign that I should quit. But I felt paralyzed, it had taken me a long time to find a job, and could I really jump ship?
After 6 months as a contractor, I was hired as a federal employee in the same office. I got a slight pay raise, a new cubicle closer to the team that had previously ignored me and did the same tasks. I was offered a ladder position so in a year, I'd jump 2 pay grades and get a good raise. At 23 years old, I was living at home rent-free, and I was making $52,000 a year. My loans are paid off. I carry no balance on my credit card. I could achieve the American Dream of owning my own home sooner rather than later if I just kept my head down and worked like a good soldier. I lasted 10 months. I tried dragging myself to work and participated in team building. I asked for more responsibility. I talked to my mentor. I tried to take on additional projects. But, I learned quickly, the government is not a place that looks favorable upon innovation or creative thinking. I worked in an office full of people who wanted to work hard so that they could pay for a big house and drive their BMW (anyone who tells you federal employees are underpaid obviously never saw the parking lot where I worked) and complain that they had to work really hard to keep those things.
My A-Ha! moment came one morning when the woman in the cube next to me loudly told her daughter (who graduated from college in May) on the phone "Meghan, I've been here 37 years and I've never liked it. But, the pay's good and you've never wanted for anything. You should definitely apply for a job here." The thought made my blood boil. 37 years was more than 50% of this woman's life and she HATED IT. Sure, she drove a Mercedes, but at what cost? She was obese, complained on the phone all morning, didn't have any friends in the office and I'm pretty sure she didn't do any actual work (if all the time she spent loudly talking on her cubicle phone was any indication). It was then that I realized that I HAD TO GET OUT. I knew that I should have had that realization 18 months ago when I started, but I couldn't stop hearing every one and their mom telling me I was lucky to have a job, lucky to be able to put gas in my car and to go out with my friends and buy nice clothes. But that just wasn't enough for me. I like my nice clothes, but I buy them on sale. And I have enough now that I could reasonably not buy anymore and still not be naked. Or unfashionable.
I called my career services advisor from my university-I found her advice to be outdated and archaic. If I wanted a job that required an objective statement on my resume, I should definitely listen to her. I read the advice of bloggers, I scoured Twitter, I joined discussions on Brazen Careerist, I wrote on my blog. After I started worked with Michelle, I read on Twitter that one of the bloggers I had long admired had an opening for a project manager. I sent in my application on a Tuesday. His partner called and interviewed me over Skype on Thursday. I was offered the job Friday. I gave my two weeks notice the following week and picked up and moved (at their request) to the middle of nowhere Ohio. After 3 weeks there, we moved the whole operation to Asheville, NC. I settled in. I made friends, I went to beer tastings and gallery openings, I went dancing.
It was good fun, until I walked into the office one morning and my business moron of a boss said "We haven't made enough money and quite frankly, it just doesn't make sense to keep you on board. Furthermore, I wasn't really sure I was ready to hire anyone and I did it anyway, so I'm sorry, but see you later." I couldn't even provide a counter-argument. I couldn't even say that I was outraged that I was up against something I could never beat because he had stacked the deck against me from Day One. I was stunned. I was paid for the rest of the month, and ultimately decided to move back to Baltimore.
I'm still angry at the utter absurdity of the situation, and probably angry at myself for jumping headlong into the abyss without second thought of what might happen if it didn't end well. After everything though, I understand that I used this opportunity as a means to an end. I wanted out of my job that made me tired and irritable and miserable. I wanted out of a situation that I was certain if I waited too much longer would be my golden handcuffs. I didn't push back as hard as I could have when my boss made decisions that were ultimately detrimental to me because I wanted to be part of the team and not make waves. I may have gotten screwed over, but the situation got me out of a job that made me miserable.
When I came back to Baltimore, I started looking for a job again-despite all of this, I was still certain I need a steady income even though I am once again living rent-free at home. I hate feeling like a freeloader and while I have expensive tastes, I am extremely frugal with my money. I didn't want to spend my time eating through my savings.
Michelle pointed out that I have life coaches everywhere-and I do. My sorority sisters and best friends from college, my kickball team, old babysitters, my parents and their friends-everyone has been eager to form an angry mob to storm the office in Asheville and to give me names and numbers of people to call for job leads. I found my current job through a friend, the posting came across his desk at work. He quickly called to tell me it was in a building not far from where he works and I'd be back in DC (where I interned in college).
It turns out, my cover letter tells a good story now. I quit a job I hated, took a  leap of faith in a challenging situation, got laid off and still managed to not end up living in a cardboard box.  And in all of that, no one has said to me "Well, I guess you shouldn't have left that cushy federal job." I was house-sitting during my latest brief unemployed stint and on the mirror in the bathroom, there was a note with a Zen saying that said "Leap and the net will appear."  It does. You might have to be a little creative, learn to tell a better story, bruise your ego, but eventually the net will appear.
I've been at my new job now for 3 weeks. I'm in charge of communications and development for a non-profit. It gives me a chance to network with a Board of Directors, hone my writing skills on grants and the company blog and it keeps me from feeling like a dilettante. I've been hesitant to get overly excited about it because I was really excited for my last job, and that excitement apparently wasn't enough. So I'm learning that what I'm doing is good enough for now. I still feel like I'm treading water, I still keep up my side projects-working on my Etsy shop, polishing resumes and cover letters for my friends, contemplating consulting for small businesses (what I did in Asheville) on a shorter-term basis.
This job market has taught me that it's good to be interesting, it's not wrong to want to feel challenged and it is possible to leap and let the net appear.
Sarah Morgan is a twenty-something recent college graduate, sometimes young professional, frequent questioner of "A-Ha! moments" and strong believer in the power of a good network.
Do you have a Recession is Bullhonkey story? I wanna hear it! Please email me with it, along with a pic/bio (optional) if you'd like me to consider it as a guest post, or just simply stating that I can use it (and how/if you'd like to be credited) as part of the series. Thanks for helping me spread the Recession is Bullhonkey gospel!
—