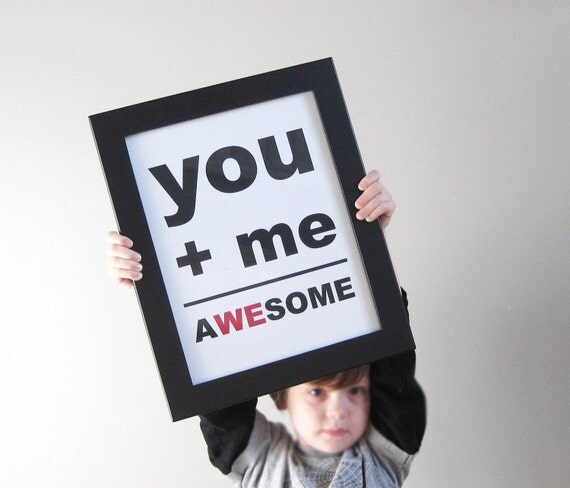 You Plus Me Equals Awesome by Pumpkin & Butterfly
In keeping with the you're-not-alone-if-you're-an-entrepreneur theme o' the week, allow me to introduce you to The People That Help Me Do It All. Like yesterday's Products/Platforms That Help Me Do It All, this is the same post from last April, but updated with new peeps I've grown to love. Hope they'll go to the sock hop with me.
For website design: Rebecca Pollock
Thank the Heavens Above for my husband working in advertising with the one and only Bekky Pollock. He recommended her to me when I was looking to have a super-professional-yet-playfully-fun site in the summer of 2009, still a full-time Corporate America drone but a recent life coaching certificate grad. Having a website I could be proud of was one of the ways I knew I could leave my job effectively, and Bekky delivered it painlessly, easily, and in a way that makes me look reeeeeeal good.
For website building: Brian Perry
Brian's a former client of mine who's also a Corporate America escapee, and he did an amazeballs job with moving my site from html to WordPress. He's the type of upstanding guy you trust with scary things like your website passwords and full access to your blog, and you know that he's gonna deliver what he promises. He's also an uber-talented designer, so I recommend him for web design gigs, too.
For time management coaching: Thekla Richter & Cairene MacDonald
I've been meeting with Thekla monthly for the past year or so, and she always helps me screw my head on straight and take approximately 10 tons of weight off of my shoulders after every session. I've always struggled with time management and I'm still working my way through the beginnings of being a full-time Woman of the World (aka entrepreneur), and Thekla has helped me experiment to find my own systems that work best for me.
I worked with Cairene last year for a few sessions, and her perspectives on time and productivity – especially for us creatives – are something we all need to embrace. I'm really looking forward to seeing how her site/program will be systems-focused as opposed to gears-focused. I know great stuff awaits!
For virtual wizarding: Arwyn Todd
Arwyn doesn't have a site or a twitter account or anything like that, namely because…I stole her! OK, not exactly, but when I knew that the Virtual Assistant I was using was about to go out of my price range, I had a crazy idea. Would one of my clients, planning to leave her full-time job and wanting a super part-time gig while maybe-kinda-sorta considering being a coach, wanna be my new Virtual Assistant? Sure, I knew she was super smart and super hilarious, but…would she say yes? Thankfully she accepted my proposal, and we've been in love ever since ('tis true. this is not an exaggeration). Now, if you want some Virtual Wizarding for yourself on a super part-time basis, leave a comment & I'll have Arwyn get in touch with ya. She's looking for another gig (no, I ain't letting her go anytime soon!) and I get to be the gatekeeper – I mean, um, help hook her up 🙂
For graphic designing and illustrating: Jess Swift
Jess is my Declaration of You partner-in-crime, the woman who made my rhyming career change workbook not make me look like a crazy person, and a lady I hope to one day live with Golden Girls style (along with our husbands, of course). Her style is super recognizable, yet she's able to mold it to what it is you're promoting – a workbook, a blog banner, a business card, a logo – you name it, she does it, and with her own artistic flair. Plus, you're gonna wanna own everything she sells (have you seen the rainboots?!). You've been warned.
For Press Representing: Brass Knuckles Media
I decided to work with Shennandoah for very important, grown-up reasons: she was recommended to me by a client, her company name kicked ass, and she talked about Stephanie Tanner in a blog post. I emailed her right away. Thankfully, not only was she the quirky-cool chick I expected her to be, but she was super-duper knowledgeable about PR and all that went along with it. She pitched me to dozens of outlets, acted as my tour guide in Austin during SXSW 2011, had me guest posting up a storm, and got one of my articles approved for a print magazine. Aw yeah.
For logo-ing and branding: nbcreative
When I found Nicole on an Etsy search way back towards the end of 2008, I stepped in s***. For $200, I got my logo, a double-sided business card, letterhead, notecards and a blog banner. That package is $229 now (note to Nicole: raise your rates, woman! ), and honestly, I can't think of a better investment for a new business. I shudder to think what When I Grow Up would be without Nancy the Ballerina Nurse and Bruce the Strumming Businessman, and I have Nicole to thank for that.
For ethical launching: Stacy of, um, Ethical Launch
As a solopreneur, I've learned to live with launches – but I wasn't happy about 'em. I wrote about Stacy on Monday, and honestly, an hour+ with her rocked my world. Not only did I learn enough to fill a book, I was excited to implement the changes to Fix This Launch and All Other Launches From This Day Forward (amen and hallelujah). I hired her right away to work on my sales page with me, as I know it'll be an investment that'll pay for itself times a gazillion. Wait 'til ya see how things change around here!
I also wanted to give props to people I haven't directly worked with, but who I recommend regularly because they are awesomesauce with a shot of amazeballs. You can call on any of these peeps for the services I list before their name and know you're getting some great work from a great person to work with.
Design (Web, Graphic, and/or Otherwise): Perfect Laughter, Everything Little Miss,  Apples and Orange, Tara Sroka, CaraBella Creative
Coaching (they all have different niches, so it depends on the type of coaching you're looking for): Tiffany Moore, Kylie Springman, Anne Hubben, Tracy Brisson, Laura Simms,  Molly Mahar, Kate Swoboda, Juliana Finch, Laura Neff, Jamie Ridler, Dawn Trautman, Rachel Cole, Emilie Wapnick and Tanya Geisler.
Consulting: Business With Intention, Tara Gentile, Dempsey Marketing
PR: Unfettered Ink
Professional Organizing: Making It Small
Blog Doctoring: Your Blog Doctor
21st Century Hypnosis: The House of HipGnosis
Marketing Strategy: Your Creative Ally
Community Creation: Erin Robinson
Copywriting/Branding: Alexandra Franzen, Shenee Howard
And I can't end this post without giving props to my man, my Mom, my bestie, the Brooklyn Brunch Business Babes, and my tribe. I get so much goodness thrown my way, I can't take full credit for anything I do – and that's a good thing.
——–