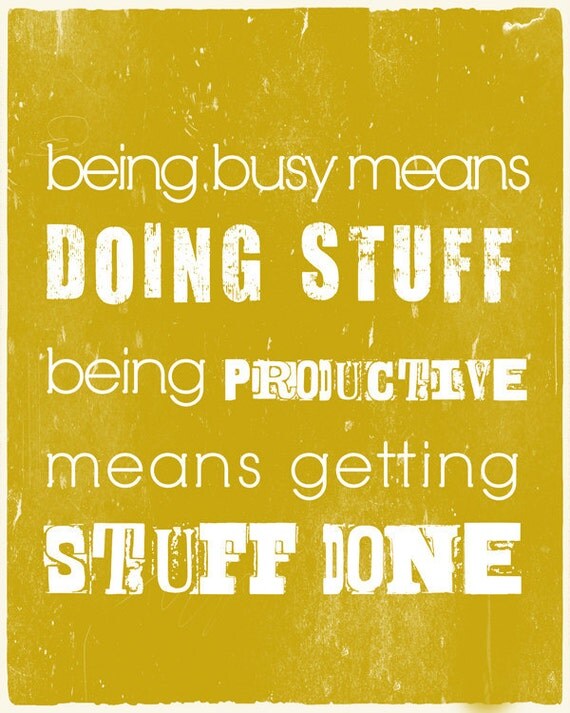 being busy means doing stuff…by Eviva! Art Prints
Huzzah! Michelle Nickolaisen  is back after introducing us/making us addictive to Trello! In this post, she's getting close to my heart (and the heart of 95% of the peeps I work with) by giving us creative Renaissance Soul ways to stay organized sans head explosions. Enjoy!
The topic of productivity is a big one, far too big to cover in just one blog post. In fact, I just taught a course on it and I still have more to say. But I thought I'd cover some of the most helpful things for Renaissance types, the things that can help you start to shift the way you view things like productivity & organization, and then turn that shift in viewpoint into action to help you through your workday.
(Why am I targeting specifically Renaissance types? Because the vast majority of productivity & organization information out there is created for specialists, and it does not work for those of us who aren't specialists. Not well, anyways.)
Staying Productive
When you're interested in everything and everything seems interesting, it can be really hard to focus and actually get any freakin' work done. As I'm sure you're well aware.
One way to "trick" yourself into focusing is to give yourself a time limit. It is monumentally easier to focus if you know that you only have to do it for 15 minutes (or 30, or whatever). Sarah Bray posted a great example of this with her 90 minute workday article that highlights a lot of the benefits of working in that way; there's also the Pomodoro technique (you can use Focus Booster for that).
Another useful strategy is to pay attention to your distraction triggers. These are – you may have guessed! – things that can cause you to become distracted. For example, when I'm writing a blog post, I either compile all of the links for the post ahead of time or after I finish the writing process, because I know that if I go looking for a link in the middle of the writing process, I'll end up going down the internet rabbit hole and suddenly look up two hours later, having not written a word and…I still don't have the link I went in search of!
However, if I have a list of the articles/blog posts I'll be linking to ahead of time, I can put them where appropriate without losing the flow of my writing and without getting distracted. Other common distraction triggers include things like answering the phone or checking social media. The key to working around these is to come up with a preventative technique – one that doesn't rely on you having the willpower in the very moment of distraction, it just eliminates the most likely possibilities of getting distracted. For example, if you tend to check social media in the middle of work & get distracted, use an extension like StayFocusd to block your social media sites during your prime work hours.
Actions:
Try working in 15 or 30 minute blocks and see if that helps you out any – track your progress! When you start trying new things, you want to be able to see what's working & what's not, so keep a simple journal, something like "Set timer for 15 minutes, accomplished…".
Track your distraction triggers. When you noticed that you've become distracted and wandered off-path, stop and take a moment to write down what you were doing when you became distracted. Chances are pretty high you'll start to notice some patterns! And remember, after you figure out what your distraction triggers are, figure out how to prevent them from becoming an issue.
Staying Sane
When I say "staying sane", I mostly mean avoiding overwhelm through being organized. Creatives tend to have a love-hate relationship with organization – we ogle beautiful, clean, organized offices and craft rooms on Pinterest (don't lie, you do it too) but when we try to sit down and "get organized" ourselves, it's like running into a brick wall.
Organization should be fun and easy. It should make your life better. Period. If it doesn't, then you should feel free to stop doing what you're doing and try something new. A lot of the organization out there is very masculine and/or left-brained – lots of hard-and-fast-rules, intricate multi-step systems that require a flowchart to understand, with the end result when used in an office creating a sterile, boring space. Booooo. People end up trying that sort of organization and having a hard time with it – because it's not suited to them, their working style, or their personality – and then they decide that it's easier to just be unorganized instead of struggling within a system that doesn't fit.
Instead, you want to choose tools based on what you like. One of my favorites is Springpad – I love that I can do things like change the background and pick colors, and that the layout is so pretty. I'm monumentally more likely to use a tool if it has great aesthetics, and I know that, so I can use that information to help me pick how I organize things. (This is, by the way, why it's totally okay to pay twice as much for an attractive set of files…since just the fact that the files are attractive means you're about a kajillion* times more likely to actually use them.)
A big part of why organizing can be so helpful in keeping you sane is that it can let you have access to what you need when you need it. This applies to both physical organization & things like planning, saving notes, etc. – if you have no doubt that you'll be able to find your crochet hooks or your camera or your notes on your book idea, it removes a lot of "background" stress that you're carrying around, that you might not even realize you have.
Actions:
Experiment with a couple of organization tools. See what you like. See what you're drawn to. Do you want something that's incredibly simple? (Check out TeuxDeux.) Or something that's visual with a lot of options? (Springpad again here.) Look at how other people use these things and start figuring out what makes things easy for you.
Alternately, figure out what's hard for you right now. What do you tend to lose, that you don't want to lose? Emails from clients? Appointment dates/times? Useful bookmarks or notes on a project you're working on? When you know what you tend to lose track of, you can figure out how to start capturing it in a way that's easy for you.
Check out some slightly off-the-beaten-path resources on organization – I really like Organizing From the Inside Out, even though some of the information is a bit dated. She addresses how we can change our definition of "organized" to one that suits us, and how to create a system that works for us – most of her suggestions are for physical space (and some are a little dated), but her philosophy can be applied to online space or information as well.
*Number based on totally scientific research. Although, FYI, in Making Ideas Happen, they talk about some fascinating concepts related to aesthetics, including the fact that aesthetics affect the way people feel about their work, which in turn – surprise! – affects how productive people are. See more examples here.
Michelle is a writer + project wrangler who lives in Austin with her husband, two cats named after Buffy characters, and her Shiba Inu.  She writes about taking your work + business to new heights at Let's Radiate

& about fulfilling your potential at Bombchelle. Michelle just wrapped up the live Productivity for Multipotentialites course with Emilie of Puttylike, which is now available in a self-study version – in case you want more tips on staying productive & sane.